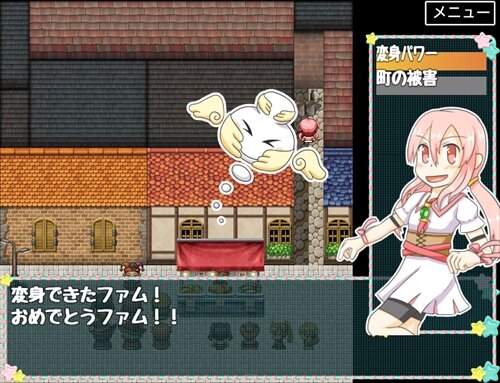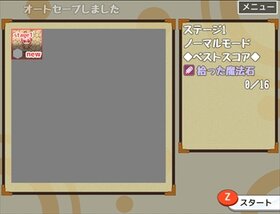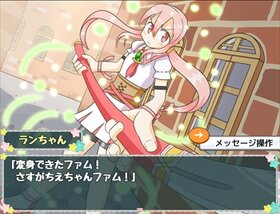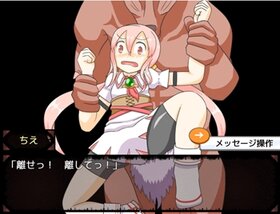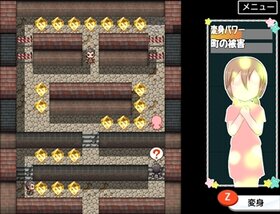 ■プレイ時間
1時間程度

■ゲーム紹介
人に見つからないように隠れながら、タップ一つで変身! 簡単変身アクションゲーム!
※キーボードやジョイパッドでも変身できます。

1ステージあたりのプレイ時間は1分以内で、全25ステージあります。

◆詳しい操作方法・リンク付きのクレジット等はサイトにて公開中です。
【 http://chie-maho.mn-s.net/ 】

■遊び方
 変身ボタンをタップ、もしくはz(決定)キーを押して変身しましょう。
変身する時、近くに人がいると気づかれてしまいます。
一般人に魔法少女であることがバレてしまうと大変なことに……!
誰にも気づかれないように変身しましょう。
変身に失敗するとイベントがあります。
イベントはタイトル画面の回想画面からもう一度見ることができます。


■ファンイラスト投稿・実況・生放送について

歓迎します。
申告等の必要はありませんが、作品名で探せる形で投稿していただけると嬉しいです。

■更新履歴
・ver1.1.11
 ツクールMVのコアスクリプトを1.5.2に更新(Chromeで音がならない問題を解消)
・ver1.1.10
 1.1.6で実装したステージ選択画面のnewがアニメーションしないように(負荷対策)
 ステージ15の魔法石の数を60個から40個に変更(負荷対策)
 背の高い壁越しに発見されないように変更
 ゲーム終了コマンド内にゲーム終了選択肢を実装


制作:白
HP【 http://mn-s.net/ 】
Twitter【 https://twitter.com/white_mns 】
Reviews of this freegame.
Share this freegame.
Play this free game now with the browser!
Play on Browser
[Browser] Click to play now [ ちえちゃんは魔法少女 ]
* When the game does not work, please play with another browser compatible with HTML5. Example: "Chrome" "Firefox"
* Save data is saved in the browser. You can not play with browsers that do not load JavaScript / Cookie etc
* If the operation gets heavier during playing, there is a possibility that the memory of the PC is insufficient. Improve it by closing unnecessary software and tabs.
Play on PC(Win/Mac)
[Win] Login and download "Windows version"
[Mac] Login and download "Mac version"
* This game is "browser game". It can be played without downloading with "PC / smartphone", but it is delivered in a format that can not be downloaded and started.
* It is not normally downloadable, but because it supports "multi-deployment function", it is converted for PC, and it is downloadable after logging in.
* Please use other decompression software such as "7zip (free software)" when garbled error occurs at zip decompression.
Similar free games.
Add to Wishlist
Add to wishlist.
Useful later. x
Information
[Registered]
2017-09-22
[Updated]
2018-04-18
[File Updated]
2018-04-18
[Current Version]
1.1.11
[File name]
Game.zip

[Runtime]

[OS]
Win Browser
[Size]
33,178 KByte
[Characteristics]

[Content Rating]
EVERYONE
[Categories]
#Action games

News Letter