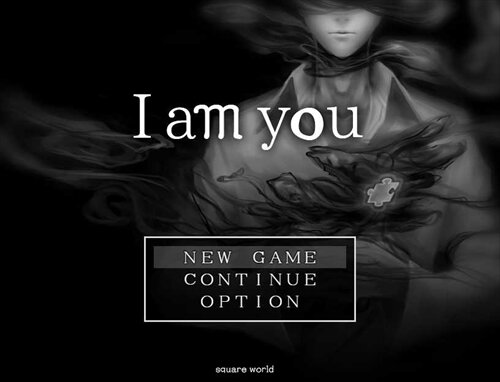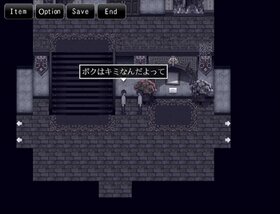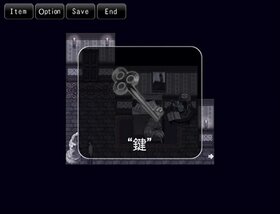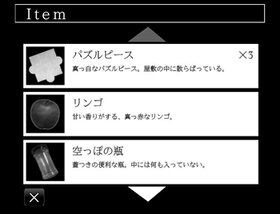 ◼︎ゲーム紹介◼︎
不思議な夢の中にいた、もう一人の自分。 
彼は僕にこう言いました。
「ボクはキミだよ」 と。

彼の代わりにあるものを探すことに。
それを探し始めると、僕と彼との関係がだんだん分かってきて......
ちょっぴり切ない 二人の物語

※追いかけ、ゲームオーバーなどの要素はありません。
※探索脱出ゲームです。

◼︎エンディング数◼︎
2種類
※END1とEND2、エピローグは一人称に注目して、一言一句見逃さずにお楽しみください。


◼︎操作方法◼︎
【パソコンの場合】
このゲームでは、マウスが必要です。
左クリック:決定/調べる/指定場所へ移動
右クリック:キャンセル

一部、キーボードでも操作が出来ます。

カーソルキー:移動
Shiftキー+カーソルキー:ダッシュ移動
Enter/Z/スペースキー:決定/調べる
ESCキー:キャンセル

【スマートフォンの場合】
タップ:決定/調べる/指定場所へ移動
ピンチ(画面を引き伸ばす):キャンセル
マルチタッチ(2本指でタップ):キャンセル

◼︎攻略サイト◼︎
【http://swgame.starfree.jp】

◼︎更新情報◼︎
2018/09/14 誤字修正と一部音量調節(ver.1.01)
2018/09/15 すり抜けする不具合を修正(ver.102)
2018/09/18 一部マップの変更(ver.1.03)
2018/09/20 水が何度も手に入るバグを修正(ver.1.04)
2018/10/10 一部マップの変更と不具合の修正(ver.1.05)

制作 : square world

Reviews of this freegame.
Share this freegame.
Play this free game now with the browser!
Play on Browser
[Browser] Click to play now [ I am you ]
* When the game does not work, please play with another browser compatible with HTML5. Example: "Chrome" "Firefox"
* Save data is saved in the browser. You can not play with browsers that do not load JavaScript / Cookie etc
* If the operation gets heavier during playing, there is a possibility that the memory of the PC is insufficient. Improve it by closing unnecessary software and tabs.
Play on PC(Win/Mac)
[Win] Login and download "Windows version"
[Mac] Login and download "Mac version"
* This game is "browser game". It can be played without downloading with "PC / smartphone", but it is delivered in a format that can not be downloaded and started.
* It is not normally downloadable, but because it supports "multi-deployment function", it is converted for PC, and it is downloadable after logging in.
* Please use other decompression software such as "7zip (free software)" when garbled error occurs at zip decompression.
Similar free games.
Add to Wishlist
Add to wishlist.
Useful later. x
Creator's data
Follow
Information
[Registered]
2018-09-14
[Updated]
2018-10-13
[File Updated]
2018-10-10
[Current Version]
1.05
[File name]
iamyou105.zip

[Runtime]

[OS]
Win Browser
[Size]
53,430 KByte
[Characteristics]

[Content Rating]
EVERYONE
[Categories]
#Adventure games

News Letter