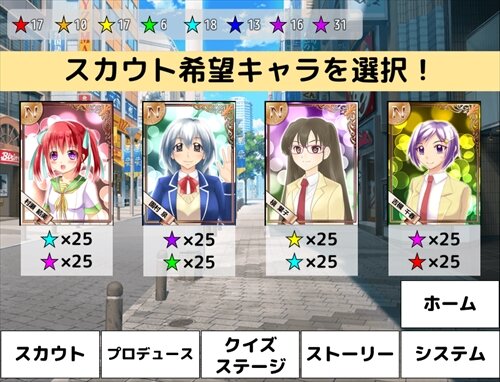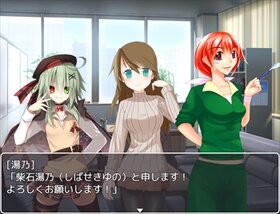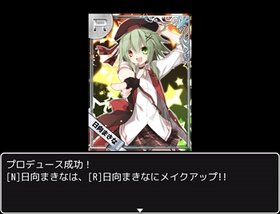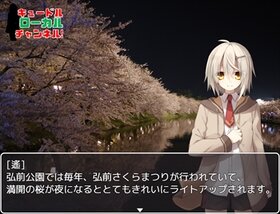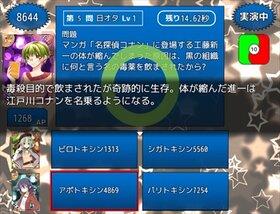 CURIOSISTがお送りする、アイドル育成クイズゲームの第2弾!
ダウンロード不要、PCでもスマホでも遊べるブラウザゲームです。
RPGツクールMV製、クリアまでのプレイ時間2~3時間程度。

◆大まかな内容
主人公は、芸能事務所「英知興業」の若手マネージャー。
クイズを解くアイドル「キュードル」が大流行している中、
日本全国からキュードルの卵をスカウトし、トップスターに育て上げるゲームです。
キュードルたちは、「クイズステージ」と呼ばれる舞台で四択クイズを解くことで、少しずつ成長していきます。

学問系からエンタメ系まで、あらゆるジャンルのクイズを1000問以上収録!
一定ランクまで成長したキュードルは、衣装が豪華に!
全国各地から集まるキュードルたちのご当地トークが満載!

その他詳細は、説明書(ReadMe)またはキュードル!公式サイトをご参照ください。

◆キュードル!公式サイト
http://curiosist.web.fc2.com/qdol/

◆レビュー・ファンイラスト投稿など、歓迎します。
実況・生放送も歓迎しますが、以下のページに目を通していただけると幸いです。
「CURIOSIST ゲーム作品の著作権に関するガイドライン」
http://curiosist.web.fc2.com/gameguideline.html
Reviews of this freegame.
【処理問題】
私のPCのスペックと調子の問題かもしれませんが、
毎回毎回ボタンを押すごとの処理時間が若干長いです
(ただし、キャラ選択画面などの例外あり)。
しかし、快適に遊ぶには、「ある程度のPCのスペックが必要」と考えていただいて良いでしょう。
遊べないレベルではないので、1回プレイすると良いかもしれません。
【面倒な部分】
少し遊んでみましたが、前の方のレビューにもあります通り、
キャラを毎回毎回選択しなければいけないので少し面倒です。
多くのゲームにあるように、事前に指定したキャラ...(More)
See more reviews >>
|
Post a review on this free game? >>
Share this freegame.
Play this free game now with the browser!
Play on Browser
[Browser] Click to play now [ キュードル! Right Answers ]
* When the game does not work, please play with another browser compatible with HTML5. Example: "Chrome" "Firefox"
* Save data is saved in the browser. You can not play with browsers that do not load JavaScript / Cookie etc
* If the operation gets heavier during playing, there is a possibility that the memory of the PC is insufficient. Improve it by closing unnecessary software and tabs.
Play on PC(Win/Mac)
[Win] Login and download "Windows version"
[Mac] Login and download "Mac version"
* This game is "browser game". It can be played without downloading with "PC / smartphone", but it is delivered in a format that can not be downloaded and started.
* It is not normally downloadable, but because it supports "multi-deployment function", it is converted for PC, and it is downloadable after logging in.
* Please use other decompression software such as "7zip (free software)" when garbled error occurs at zip decompression.
Similar free games.