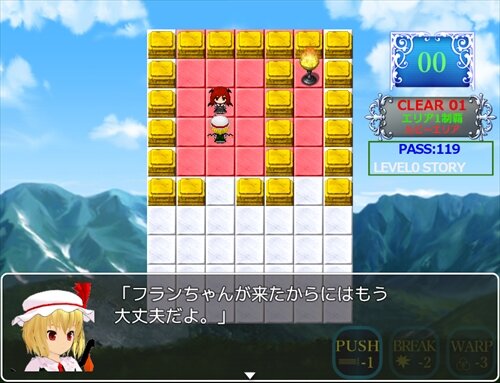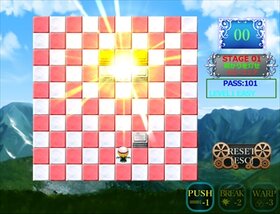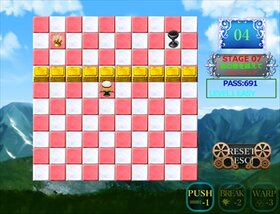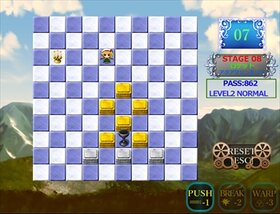 ※音が不安定のため、ダウンロードすることを推奨します!


昔こんな感じのパズルを見つけたが、今ではプレイできない・・・。
ならば自分でプログラムすればいい!
というわけで作ったゲームです。

~あらすじ~
基本的に平和な紅魔館は、今日も平和。

しかし突然フランちゃんを残して、謎の悪魔に全員誘拐されてしまった!

光が苦手だという悪魔は、世界を闇で支配しようとしているらしいが、

レミリアたちは闇の世界において力を持ってしまう故に誘拐されたらしい。

全ての杯に火を灯し、謎の悪魔の陰謀を止めよう!

~ステージ概要~
ステージは全部で49個!
7つクリアするたびに、そのエリアに捕らえられた紅魔館のメンバーを一人救出でき、
次のエリアに挑戦できます。
難易度はEASY、NORMAL、HARD、ULTRA、LUNATIC、MURIの6レベル。
Reviews of this freegame.
この作品、すごく良くできていて、しかも面白いですね!
基本は倉庫番的パズルですが、アクションの種類と回数制限があるあたりで工夫されているのでパズルとしての面白さが増しています。一見簡単なようで実はそうでもなく、難しいかと思えば案外あっさり解けてしまったりの加減もちょうどいいと思います。どうにもこうにも解けないと思っていたのが、ちょっとした事に気付いたら一気にクリアできてしまう時の妙なスッキリ感も大きいのでなかなかオススメです。
そして、ステージは物語仕立てで進んで行くのでキャラク...(More)
See more reviews >>
|
Post a review on this free game? >>
Share this freegame.
Play this free game now with the browser!
Play on Browser
[Browser] Click to play now [ パズル de フラン ]
* When the game does not work, please play with another browser compatible with HTML5. Example: "Chrome" "Firefox"
* Save data is saved in the browser. You can not play with browsers that do not load JavaScript / Cookie etc
* If the operation gets heavier during playing, there is a possibility that the memory of the PC is insufficient. Improve it by closing unnecessary software and tabs.
Play on PC(Win/Mac)
[Win] Login and download "Windows version"
[Mac] Login and download "Mac version"
* This game is "browser game". It can be played without downloading with "PC / smartphone", but it is delivered in a format that can not be downloaded and started.
* It is not normally downloadable, but because it supports "multi-deployment function", it is converted for PC, and it is downloadable after logging in.
* Please use other decompression software such as "7zip (free software)" when garbled error occurs at zip decompression.
Add to Wishlist
Add to wishlist.
Useful later. x
Creator's data
Follow
Information
[Registered]
2018-05-06
[Updated]
2018-05-16
[File Updated]
2018-05-16
[Current Version]
0.02
[File name]
img.zip

[Runtime]

[OS]
Win 7 64bit/8 64bit/10 64bit/Browser
[Size]
81,133 KByte
[Characteristics]

[Content Rating]
EVERYONE
[Categories]
#Puzzle games
#Brain Training Games

News Letter
Recommended free game for those who like this free game.
Free game event list.