陰鬱ギャグバレンタイン短編乙女ゲー(変態要素微量)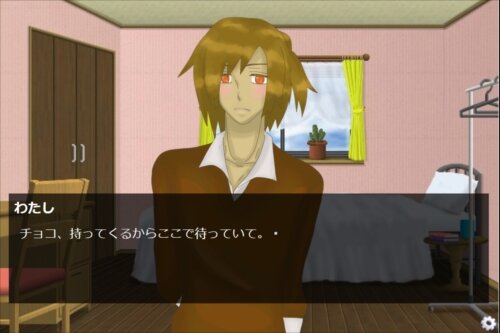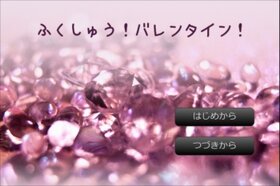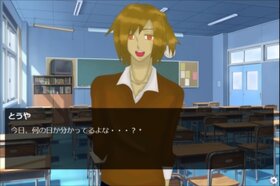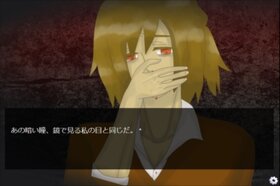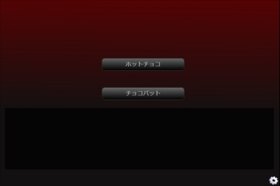 タイトル :ふくしゅう!バレンタイン!
製作   :むらさきくまねずみ
対象   :15歳以上推奨
ジャンル :彼氏(仮)に復讐する短編バレンタイン鬱ギャグ乙女(?)ゲー


概要

彼氏(仮)に恨みがある主人公のバレンタインな一日です・・・

エンド数2個です(両方とも暗めのエンドです)

★注意★
主人公がおかしいです。(性格、行動等)

犯罪行為を示唆するような表現、暴力的な表現がありますが
制作者にはそれらを助長する意図が一切ないことを
ご理解のほどよろしくお願いいたします。
若干、流血、変態的な表現があります。
苦手な方はご注意ください。
15歳以上推奨です。


ふりーむ!へのレビュー投稿について

個人の趣味で制作したものですので、お手柔らかにお願いします。


ふりーむ!へのファンイラスト投稿について

お待ちしています!


動画サイトの実況行為はお断りしています。



■免責事項

個人の趣味活動のため、動作や内容について保証はありません。ご自身の責任にてご利用ください。

--------------------------------------------------------------------------

バグ報告、ご意見ご感想があればメールフォームからお願いします。

むらさきくまねずみの巣
http://murasakidobu.blog.fc2.com/

twitter
https://twitter.com/murakumatyan

Reviews of this freegame.
Share this freegame.
Play this free game now with the browser!
Play on Browser
[Browser] Click to play now [ ふくしゅう!バレンタイン! ]
* When the game does not work, please play with another browser compatible with HTML5. Example: "Chrome" "Firefox"
* Save data is saved in the browser. You can not play with browsers that do not load JavaScript / Cookie etc
* If the operation gets heavier during playing, there is a possibility that the memory of the PC is insufficient. Improve it by closing unnecessary software and tabs.
Play on PC(Win/Mac)
[Win] Login and download "Windows version"
[Mac] Login and download "Mac version"
* This game is "browser game". It can be played without downloading with "PC / smartphone", but it is delivered in a format that can not be downloaded and started.
* It is not normally downloadable, but because it supports "multi-deployment function", it is converted for PC, and it is downloadable after logging in.
* Please use other decompression software such as "7zip (free software)" when garbled error occurs at zip decompression.
Add to Wishlist
Add to wishlist.
Useful later. x
Creator's data
Follow
Information
[Registered]
2018-02-10
[Updated]
2018-02-10
[File Updated]
2018-02-10
[Current Version]
1.00
[File name]
fukuvare.zip

[Runtime]

[OS]
Win Browser
[Size]
46,770 KByte
[Characteristics]
Violence
[Content Rating]
AGE 15+
[Categories]
#Adventure games
#Otome games

News Letter
Recommended free game for those who like this free game.
Free game event list.