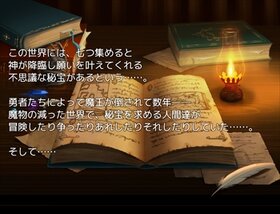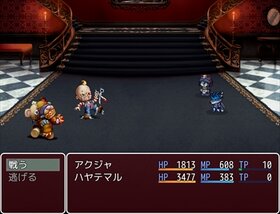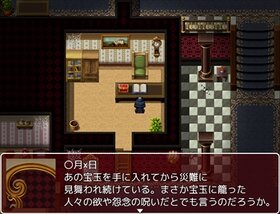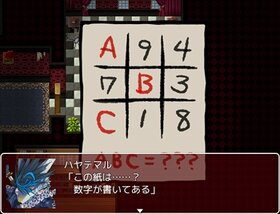 ワンマップフェス3参加中

■制作ツール
RPGツクールMV

■プレイ時間
15分くらい

■ゲーム紹介文
七つ集めると願いが叶う伝説の宝玉を探す旅人二人。
宝玉の一つがあると聞き怪しい屋敷にやって来た。
果たして宝玉はあるのか…(あるよ)

#01『根暗男子と犬とロボ』https://www.freem.ne.jp/win/game/12976
#02『根暗男子と犬と霊』これ
#03『根暗男子と犬と村』https://www.freem.ne.jp/win/game/17812

■ふりーむ!へのレビュー、ファンイラスト投稿について
歓迎します!!!
※誹謗中傷や作品の世界観を壊すものはお控えください。マナーを守ってお願いします。

■バージョンアップ履歴
2017/09/30 0.90 ふりーむ!に投稿
※ごめん※
おそらく後日画像やセリフを追加するのでバ―ジョン0.9としました。
2017/10/11 1.00 絵を二枚追加、セリフを少し追加、敵を少し強化、
あとゲーム開始直後にBGMの読み込みを入れてみたんですがやり方間違ってたらすみません。
2018/04/27 1.01 設定ミス修正
Reviews of this freegame.
Ver.1.00でプレイ。
魔道士と犬忍者のコンビが宝を求めて屋敷の謎を解く探索アドベンチャーで
不遜な魔道士と以外に臆病な忍者のドタバタアドベンチャー(古い)的な
ストーリーが楽しめました。
ゲームは簡単な探索と謎解きで進行し、たまにバトルイベントが発生しますが
主人公コンビがかなり強いので普通にプレイしている限りまず負ける事はないでしょう。
プレイ時間は短めですが、目立つ粗のない完成度の高さでストレスなく遊べる
バランスの良い作品でした。
See more reviews >>
|
Post a review on this free game? >>
Share this freegame.
Play this free game now with the browser!
Play on Browser
[Browser] Click to play now [ 根暗男子と犬と霊 ]
* When the game does not work, please play with another browser compatible with HTML5. Example: "Chrome" "Firefox"
* Save data is saved in the browser. You can not play with browsers that do not load JavaScript / Cookie etc
* If the operation gets heavier during playing, there is a possibility that the memory of the PC is insufficient. Improve it by closing unnecessary software and tabs.
Play on PC(Win/Mac)
[Win] Login and download "Windows version"
[Mac] Login and download "Mac version"
* This game is "browser game". It can be played without downloading with "PC / smartphone", but it is delivered in a format that can not be downloaded and started.
* It is not normally downloadable, but because it supports "multi-deployment function", it is converted for PC, and it is downloadable after logging in.
* Please use other decompression software such as "7zip (free software)" when garbled error occurs at zip decompression.
Similar free games.