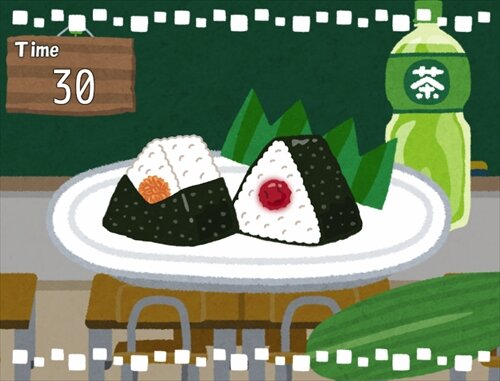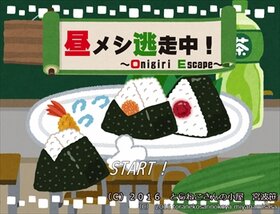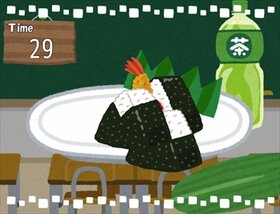 ★どんなゲーム?

昼メシのおにぎりが逃げ出した!?
クリックで捕まえて、昼メシを死守しよう!

onigiri escape! 
click get!


※マウスorスマホで遊ぶゲームです
 キーボードには反応しません

〇mouse
×keyboard

★制作ツール
RPGツクールMV

★プレイ時間
1プレイ30秒

play time 30 Second

★レビュー投稿について
バグ報告はサイトBBSもしくはメールでお願いします

◆実況・生放送について
歓迎します! 個別でこちらに許可を取る必要はありません
動画のタイトルもしくは説明文にゲーム名「昼メシ逃走中!」の明記をお願いします

Commentary ok


★その他
×二次配布
×素材抜き出し
×ファイルの転勤

Not for redistribution

×distribution
×File Relocation

ーーーーーーーーーーーーーーーーーーーーーーーーーー
サイト:とらねこさんの小屋
    http://www.k3.dion.ne.jp/~toraneko/
作者名:宮波笹(みやなみささ)

toranekosannokoya miyanamisasa

Reviews of this freegame.
Share this freegame.
Play this free game now with the browser!
Play on Browser
[Browser] Click to play now [ 昼メシ逃走中!~onigiri escape~ ]
* When the game does not work, please play with another browser compatible with HTML5. Example: "Chrome" "Firefox"
* Save data is saved in the browser. You can not play with browsers that do not load JavaScript / Cookie etc
* If the operation gets heavier during playing, there is a possibility that the memory of the PC is insufficient. Improve it by closing unnecessary software and tabs.
Play on PC(Win/Mac)
[Win] Login and download "Windows version"
[Mac] Login and download "Mac version"
* This game is "browser game". It can be played without downloading with "PC / smartphone", but it is delivered in a format that can not be downloaded and started.
* It is not normally downloadable, but because it supports "multi-deployment function", it is converted for PC, and it is downloadable after logging in.
* Please use other decompression software such as "7zip (free software)" when garbled error occurs at zip decompression.
Similar free games.