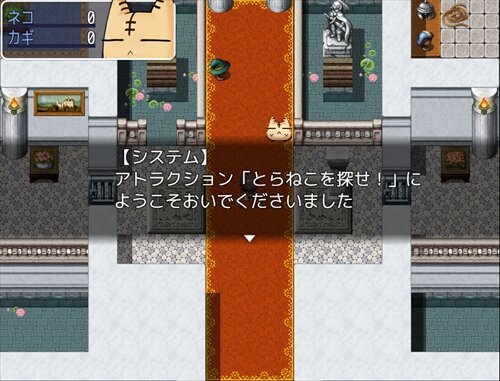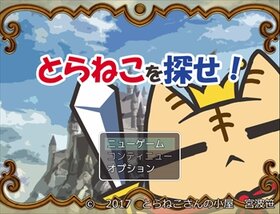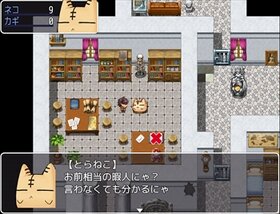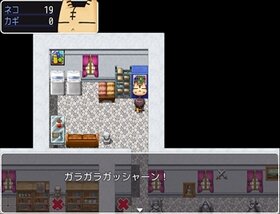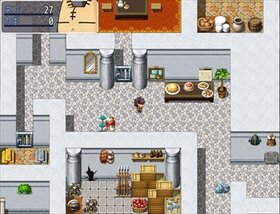 ◆どんなゲーム?
アトラクション「とらねこを探せ!」にようこそ
ルールは簡単、マップ上に隠れた「とらねこ」全66匹を見つけ出せ!
※それだけのゲームです

・8月18日からのver1.2で、入口付近のとらねこに「ヒント」「カギをよこせ」が追加されました
・7月1日からのver1.1で、重さが多少軽減されました

◆制作ツール
RPGツクールMV

◆プレイ時間
10分程度

◆レビュー投稿について
バグ報告はメールでお願いします

◆ファンイラスト投稿について
歓迎します!

◆実況・生放送について
歓迎します! 個別でこちらに許可を取る必要はありません
動画のタイトルもしくは説明文に
ゲーム名「とらねこを探せ!」の明記をお願いします


※誹謗中傷や作品の世界観を壊すものはお控えください。マナーを守ってお願いします。

ーーーーーーーーーーーーーーーーーーーーーーーーーー
サイト:とらねこさんの小屋
   http://toranekosanokoya.bake-neko.net/
作者名:宮波笹(みやなみささ)
ーーーーーーーーーーーーーーーーーーーーーーーーーー
Reviews of this freegame.
Ver.1.1でプレイ。
66匹のとらねこを探すシンプルな探索ゲームですが
意外な場所から飛び出してくるとらねこ達の悲喜交々な
台詞を読むのが楽しい作品です。
システムはオーソドックスですが見つけた場所に印がついたり
一匹一匹に個別のセリフが設定されていたりと
丁寧に手間が掛けられているのが伝わってきて好感が持てました。
特別なイベントや時間制限はないのでじっくりと探索するのも
自分で時間を測ってチャレンジするのも自由なので
好きな楽しみ方でとらねこ達と戯れてみて欲しいですね。
See more reviews >>
|
Post a review on this free game? >>
Share this freegame.
Play this free game now with the browser!
Play on Browser
[Browser] Click to play now [ とらねこを探せ! ]
* When the game does not work, please play with another browser compatible with HTML5. Example: "Chrome" "Firefox"
* Save data is saved in the browser. You can not play with browsers that do not load JavaScript / Cookie etc
* If the operation gets heavier during playing, there is a possibility that the memory of the PC is insufficient. Improve it by closing unnecessary software and tabs.
Play on PC(Win/Mac)
[Win] Login and download "Windows version"
[Mac] Login and download "Mac version"
* This game is "browser game". It can be played without downloading with "PC / smartphone", but it is delivered in a format that can not be downloaded and started.
* It is not normally downloadable, but because it supports "multi-deployment function", it is converted for PC, and it is downloadable after logging in.
* Please use other decompression software such as "7zip (free software)" when garbled error occurs at zip decompression.
Similar free games.
Add to Wishlist
Add to wishlist.
Useful later. x
Information
[Registered]
2017-06-25
[Updated]
2017-08-19
[File Updated]
2017-08-19
[Current Version]
1.2
[File name]
torasaga1.2.zip

[Runtime]

[OS]
Win Browser
[Size]
25,287 KByte
[Autonomous regulation]

[Content Rating]
EVERYONE
[Categories]
#Adventure games
#Kids games

News Letter
Recommended free game for those who like this free game.
Free game event list.