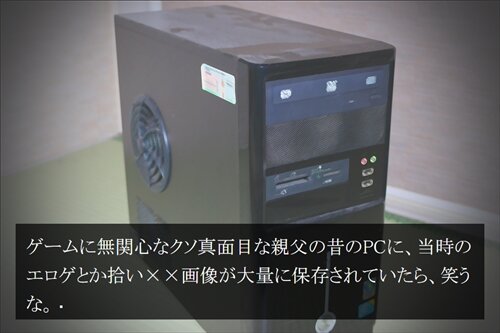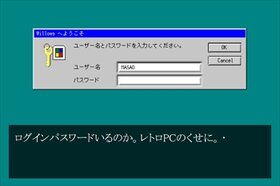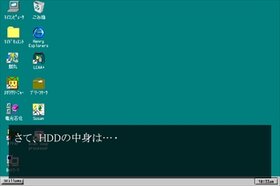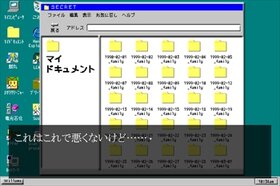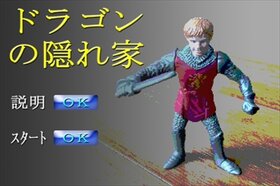 ※v2.00仕様
・テキストフォントを変更しました
・既存グラフィックを修正しました
・一部テキストを修正しました
・デベロッパーロゴを入れました(笑)
・M4A音源に対応しました

【プレイの快適さの目安】
◎ ダウンロード版(Windows/Mac)
○ PCのウェブブラウザでのプレイ
 ※推奨ブラウザはGoogle Choromeです(一部の画面演出が正しく処理されません)
 ※ネット回線速度や使用ブラウザの相性などで、快適さが変化します
 ※Internet Explorerではムービーが再生されないとの報告がありました
△ スマホでのウェブブラウザでのプレイ
 ※プレイの途中でゲーム進行が止まってしまいます…。


■プレイ時間
10~15分


■ゲーム紹介
家の押入れの中をガサゴソ。すると、出てきたのは……。

20歳前後か、40代の方にちょうどいい感じのデジタルノベルです。
可能な限り、サウンドの再生が許される環境で、ゆったりとした気持ちで遊んでみてください。

※千文字喫茶参加中
(本編約1000文字、ゲーム内ゲーム約600字)


■特徴
・簡単なメッセージ選択で、3つの結末に分岐します
・ゲーム進行データのセーブ/ロード、コンフィグ設定はありません
・演出の都合上、ムービーなどのスキップができません。ご了承下さい
・ノルウェーの音楽家"October Child"の許諾を得て楽曲を使用しています。


■操作
・マウス左クリック:テキスト送り/選択メッセージの決定
・マウス右クリック:テキストウィンドウの一時消去/再表示


■制作ツール
ティラノビルダー v1.7.0
PhotoShop Elements 15
Movie Studio platinum 13.0
Reviews of this freegame.
Share this freegame.
Play this free game now with the browser!
Play on Browser
[Browser] Click to play now [ お父さんのPCクエスト ]
* When the game does not work, please play with another browser compatible with HTML5. Example: "Chrome" "Firefox"
* Save data is saved in the browser. You can not play with browsers that do not load JavaScript / Cookie etc
* If the operation gets heavier during playing, there is a possibility that the memory of the PC is insufficient. Improve it by closing unnecessary software and tabs.
Play on PC(Win/Mac)
[Win] Login and download "Windows version"
[Mac] Login and download "Mac version"
* This game is "browser game". It can be played without downloading with "PC / smartphone", but it is delivered in a format that can not be downloaded and started.
* It is not normally downloadable, but because it supports "multi-deployment function", it is converted for PC, and it is downloadable after logging in.
* Please use other decompression software such as "7zip (free software)" when garbled error occurs at zip decompression.
Similar free games.
Add to Wishlist
Add to wishlist.
Useful later. x
Creator's data
Follow
Information
[Registered]
2017-03-03
[Updated]
2017-08-01
[File Updated]
2017-07-28
[Current Version]
2.00
[File name]
qixgames01.zip

[Runtime]

[OS]
Win 7 32bit/7 64bit/8 32bit/8 64bit/10 32bit/10 64bit/Browser
[Size]
173,183 KByte
[Characteristics]

[Content Rating]
EVERYONE
[Categories]
#Novel games

News Letter