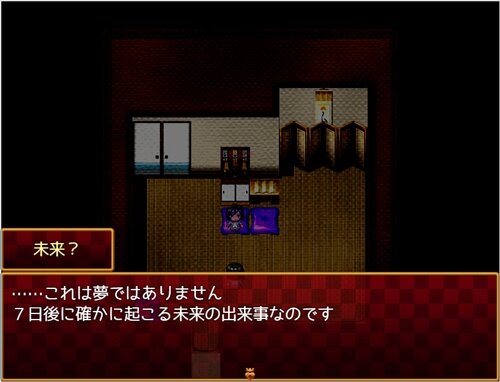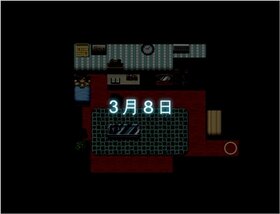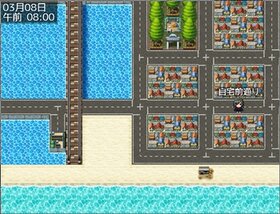 ★ストーリー:
高校受験を間近に控える未来は、ある日突然不思議な夢の中で
自分の姿をした時の番人なる者と出会う。
時の番人によると、これは夢でなく一週間後の未来だという。
そして、一週間後に未来の家族は事故に遭って死んでしまうのだと。
未来は家族を死の運命から救うために、未来で得た情報を元に未来を変えるべく奔走する。

★更新履歴
2016/11/24 ver1.00 公開
2016/12/14 ver1.01 公開(一部テキストの修正と3/9に時間を進めるを使わずに進行した際に起きる進行不能バグを修正しました)

★製作ツール
RPGツクールMV(Windows7)
(C) 2015 KADOKAWA CORPORATION./YOJI OJIMA


★著作権/免責等
○本ゲームはフィクションです。実在の人物や団体などとは一切関係ありません。
○本ゲームに使用されている全てのデータ、ファイル等の転載・無断使用を一切禁止します。

★作者情報
・不具合等の連絡はお手数ですが、下記にお願いいたします。
○作者名  とそそ
○メール  pon-se@hotmail.co.jp
      ringomikan1219@gmail.com
○twitter https://twitter.com/tososo_mv
Reviews of this freegame.
終始一貫していて命の尊さを学べる良い作品でした。
少年の行動の動機が少し強引な気もしましたが、無垢な少年の発想と思えばあり得ることかも知れません。
最終的に明らかになる真相も納得のできるものでした。エンドロールで描かれているシーンは、主人公の努力なしには存在しなかったと思うと感慨深いものでした。
個人的には、『家族を救うために主人公が自らが死を選ぶ』みたいなBADENDがあっても面白いんじゃないかなと思います。
○気になる点
・マップが広い。
・マップ内オブジェクトを調べた時の、本編とは関係...(More)
See more reviews >>
|
Post a review on this free game? >>
Share this freegame.
Play this free game now with the browser!
Play on Browser
[Browser] Click to play now [ 4 days -未来の未来- ]
* When the game does not work, please play with another browser compatible with HTML5. Example: "Chrome" "Firefox"
* Save data is saved in the browser. You can not play with browsers that do not load JavaScript / Cookie etc
* If the operation gets heavier during playing, there is a possibility that the memory of the PC is insufficient. Improve it by closing unnecessary software and tabs.
Play on PC(Win/Mac)
[Win] Login and download "Windows version"
[Mac] Login and download "Mac version"
* This game is "browser game". It can be played without downloading with "PC / smartphone", but it is delivered in a format that can not be downloaded and started.
* It is not normally downloadable, but because it supports "multi-deployment function", it is converted for PC, and it is downloadable after logging in.
* Please use other decompression software such as "7zip (free software)" when garbled error occurs at zip decompression.
Similar free games.
Add to Wishlist
Add to wishlist.
Useful later. x
Information
[Registered]
2016-12-05
[Updated]
2016-12-15
[File Updated]
2016-12-14
[Current Version]
1.01
[File name]
4days-ver1.01.zip

[Runtime]

[OS]
Win Browser
[Size]
106,957 KByte
[Characteristics]

[Content Rating]
EVERYONE
[Categories]
#Adventure games

News Letter