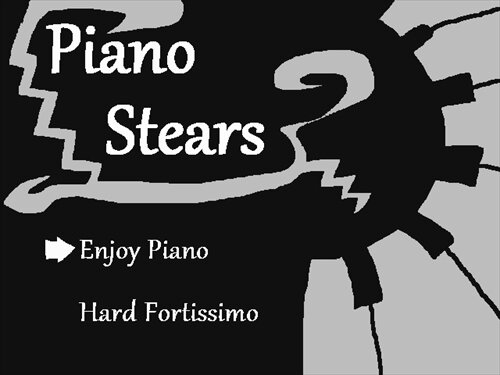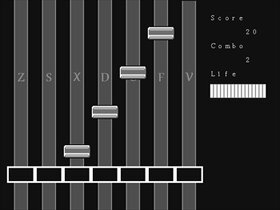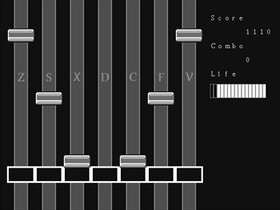 ※この作品は"カイダン夏祭り"参加中です。

難易度(Enjoy):★★…誰でも楽しめます
   (Hard) :★★★★…刺激が欲しい人向け

階段譜面。

音楽ゲームをとことん遊ぶ者なら
聞き覚えがある単語ではないでしょうか。

このゲームは、そんな階段譜面を
遊ぶ事に特化した演奏ゲームです。

演奏、と言っても、ただひたすらピアノを
鳴らすだけですけども…。
ゲームとしてはシンプルで奥深い作品です。

大体3~10分位がプレイ時間の目安です。
初心者や超人プレイヤーの皆様、是非とも
階段譜面をお楽しみ下さいませ。

実況・生放送等も大歓迎いたします。
必ず動画タイトルに本作品名である
「ピアノステアーズ」の名前を入れ、
可能であれば、動画コメント内等にこのページ、
もしくは Read me内にある、作者のサイトのURLを載せて下さい。

■ 更新履歴
2017/ 8/ 20 
v1.10 コンボシステム追加、それに関する事項をRead meに追加

Difficulty(Enjoy):★★…Everyone can Enjoy
    (Hard) :★★★★…difficult

Music of stairs.

A musical game, I'm the person who plays thoroughly.
Isn't it a word with familiarity?

This game is such music of stairs.
A performance game specialized to play.

Even if I say that it's played, it's a piano earnestly.
Than being just well-known....
It's simple as a game and is a deep work.

About about 3~10 minutes are the rule of thumb of play time.
Of a beginner and a superman player, by all means, everyone.
Please enjoy music of stairs.

The real condition and a live broadcast, etc., big, I'll welcome it.
It's always this work name in the animation title.
Including the name of "Piano Stears".
When it's possible, in the animation comment, this page.
Or please put Uniform Resource Locator of the author's site in Read me.

// Update
2017/ 8/ 20 
v1.10 Combo system addition, and A matter about that is added to Read me.
Reviews of this freegame.
Share this freegame.
Download this free game.
Play on PC(Win/Mac)
Click to download [ Piano Stears(ピアノステアーズ)ver1.10 ]
Similar free games.