幼馴染の冴子さんが「四の五の言わずについてこい」と睨んでいる。ついて行った先は一体……?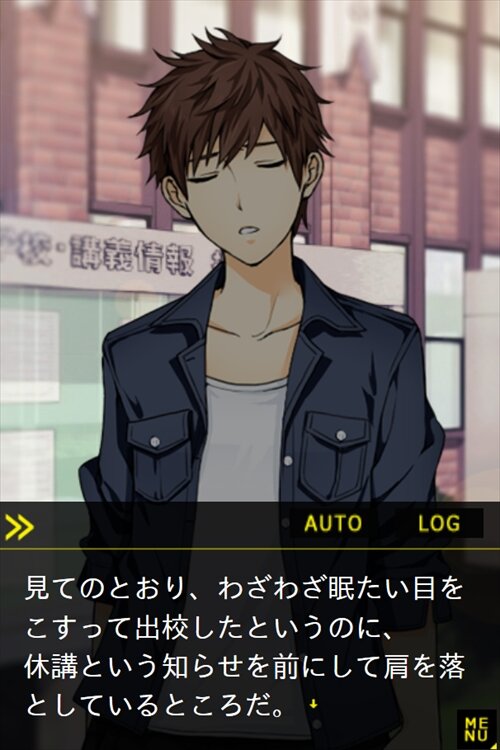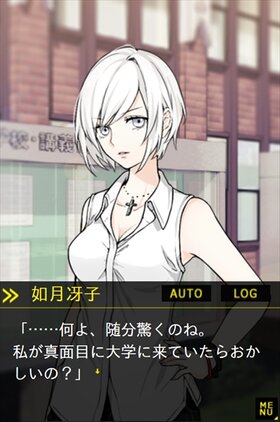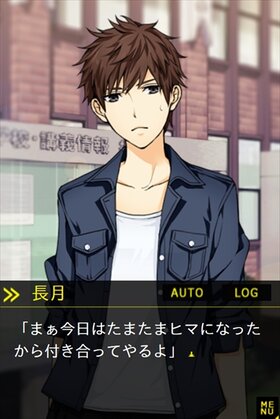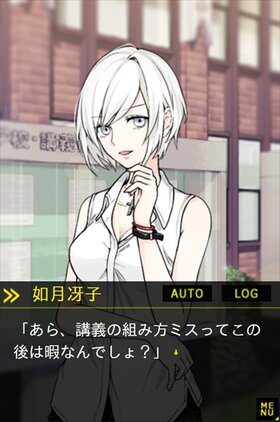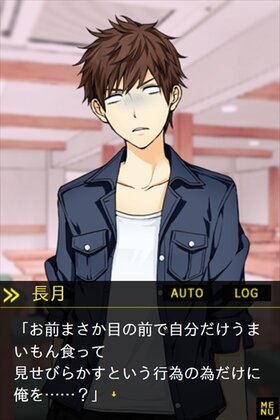 ■ゲーム紹介文

とあるホワイトデーのヒトコマを描いた超短編。
大学に来ていた長月と冴子の二人は、講義がたまたま休講になってしまって――・・・?

メイン制作中のオリジナルADV「Lagna code -ラグナコード-」の先行番外編です。

■エンド数2(Happy,Bad)
■スチルなし
■プレイ時間 約15分

■このゲームの特徴をリストアップ

ホワイトデー終了一時間前に思い立って10時間くらいで制作しました。
(なのでいろいろやっつけです)

携帯端末からのプレイも考慮して縦画面にしていますが、
(音が出ないなど)動作が不安定なためPCブラウザかダウンロード推奨です。
DL版は更新サイトからお願いいたします。

http://asayuki0130.wixsite.com/lagunacode/dl

■制作ツール
ティラノビルダー


■ふりーむ!へのレビュー投稿について

個人の趣味で制作したものですので、お手柔らかにお願いします。


■ふりーむ!へのファンイラスト投稿について

お待ちしています!


■実況・生放送について

歓迎します!

動画のタイトルには「ゲーム名」を入れて、説明文にはこのゲームページURLか制作者サイトURLを入れておいてください。
動画サイトに会員登録してなくても動画・生放送が閲覧できると助かります。



※ 誹謗中傷や作品の世界観を壊すものはお控えください。マナーを守ってお願いします。
(何かあれば削除をお願いすることがあるかもしれませんが、ご協力お願いいたします)
Reviews of this freegame.
Share this freegame.
Play this free game now with the browser!
Play on Browser
[Browser] Click to play now [ 冴子さんとホワイトデー ]
* When the game does not work, please play with another browser compatible with HTML5. Example: "Chrome" "Firefox"
* Save data is saved in the browser. You can not play with browsers that do not load JavaScript / Cookie etc
* If the operation gets heavier during playing, there is a possibility that the memory of the PC is insufficient. Improve it by closing unnecessary software and tabs.
Similar free games.
Add to Wishlist
Add to wishlist.
Useful later. x
Creator's data
Follow
Information
[Registered]
2017-03-16
[Updated]
2017-06-06
[File Updated]
2017-03-17
[Current Version]
1.01
[File name]
whiteday_bro_2017317.zip

[Runtime]

[OS]
Win 7 32bit/7 64bit/8 32bit/8 64bit/10 32bit/10 64bit/Browser
[Size]
12,547 KByte
[Characteristics]

[Content Rating]
EVERYONE
[Categories]
#Novel games

News Letter
Recommended free game for those who like this free game.
Free game event list.