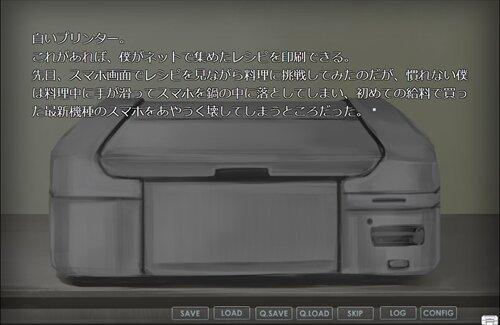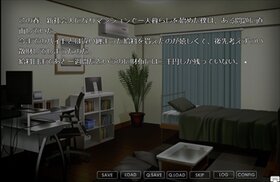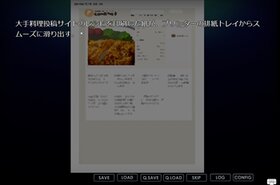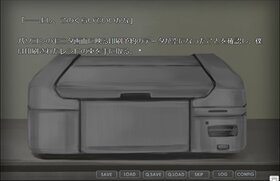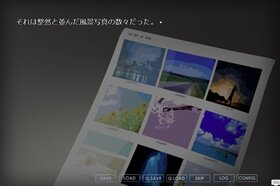 五分ほどで終わる短編ホラーノベルです。エンディングは二種類。
脅かし要素やグロテスクな表現が苦手な方はご注意ください。


※パソコン以外での環境では動作確認できないため、スマートフォンなどでは正常に動作しない可能性があります


■プレイ時間

約5分


■ふりーむ!へのレビュー投稿について

個人の趣味で制作したものですので、お手柔らかにお願いします。
不具合報告やご意見・ご感想歓迎です。アップデートや今後の作品制作の参考にさせていただきます。


■ふりーむ!へのファンイラスト投稿について

お待ちしています!


■実況・生放送について

歓迎します!

動画のタイトルには「ゲーム名」を入れて、説明文にはこのゲームページURLか制作者サイトURLを入れておいてください。
動画サイトに会員登録してなくても動画・生放送が閲覧できると助かります。


※ 誹謗中傷や作品の世界観を壊すものはお控えください。マナーを守ってお願いします。
(何かあれば削除をお願いすることがあるかもしれませんが、ご協力お願いいたします)



■免責事項

個人の趣味活動のため、動作や内容について保証はありません。ご自身の責任にてご利用ください。



━━━━━━━━━━━━━━━━━━━━━━━━━━━━━━━━━━━━━━



■Content
"One day, a man picked up a white printer"

This is a short Japanese horror story in adventure game format.
With the English version, a section of the Japanese version is available to play.
This version includes violent and grotesque expression equivalent to a rating of R-15.

■Type
Freeware

■Play time
Approximately 5 minutes

■Operating Environment
We have confirmed operation of this game with Windows7(64bit)/Google Chrome.
This game may not operate correctly in non-PC play environments.


■Playthroughs/live broadcasts
We allow the above.
Include the title of the game in the tag of the video.


■Copyrights
The copyright of this work is owned by "Yumeminoyamai".
Unauthorized use of the copyright of this work is prohibited.


■Disclaimer
As this has been created as a personal hobby, no guarantees are made in regard to operation or content. Please use this under your own responsibility.
No responsibility is taken for any problems occurring as a result of using this software.。
By starting up this game, you are indicating your consent to the terms of this disclaimer.



This product was translated into English by simway68.
Reviews of this freegame.
Share this freegame.
Play this free game now with the browser!
Play on Browser
[Browser] Click to play now [ 白いプリンター ]
* When the game does not work, please play with another browser compatible with HTML5. Example: "Chrome" "Firefox"
* Save data is saved in the browser. You can not play with browsers that do not load JavaScript / Cookie etc
* If the operation gets heavier during playing, there is a possibility that the memory of the PC is insufficient. Improve it by closing unnecessary software and tabs.
Similar free games.