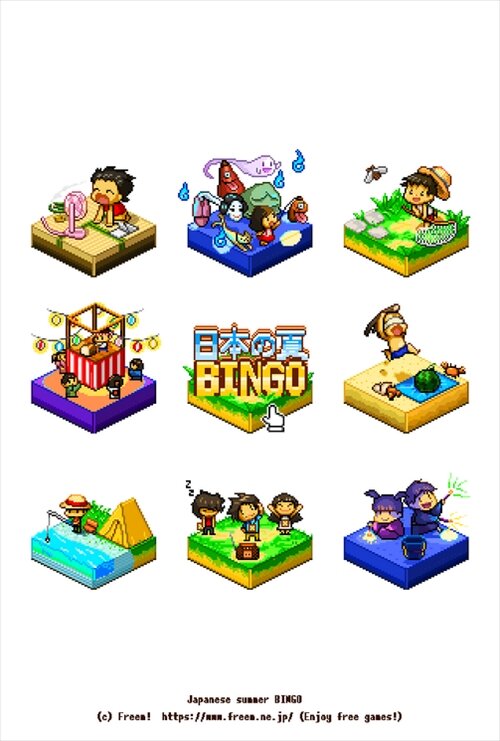 # English

It is the bingo game of "The Summer of Japan" themed.

Each scene is drawn with dot picture vignette.

Please enjoy the summer of Japan through pixel art.


Game creation software: "Tirano Builder / Tyrano Script"

· Simple specification that only tap and attach a circle

· Please enjoy the range of hobbies such as live broadcast, live broadcasting, screen shot screenshot with SNS etc.
(Please give us cooperation when asking for deletion)

· There is no guarantee about operation and contents. Please use it at your own risk.


# Japanese

「日本の夏」がテーマのビンゴゲームです。

各シーンはドット絵ヴィネットで描かれています。

ピクセルアートを通じて、日本の夏をお楽しみください。


開発ツール:「ティラノビルダー/ティラノスクリプト」

・タップしてマルをつけるだけのシンプル仕様

・実況、生放送、SNS等で結果画面のスクリーンショット共有など、趣味の範囲でお楽しみください。
 (削除をお願いした際にはご協力をお願いいたします)

・動作や内容について保証はありません。ご自身の責任にてご利用ください。

#ワンマップフェス4参加中

Reviews of this freegame.
Share this freegame.
Play this free game now with the browser!
Play on Browser
[Browser] Click to play now [ 日本の夏BINGO (Japanese summer BINGO) ]
* When the game does not work, please play with another browser compatible with HTML5. Example: "Chrome" "Firefox"
* Save data is saved in the browser. You can not play with browsers that do not load JavaScript / Cookie etc
* If the operation gets heavier during playing, there is a possibility that the memory of the PC is insufficient. Improve it by closing unnecessary software and tabs.
Similar free games.