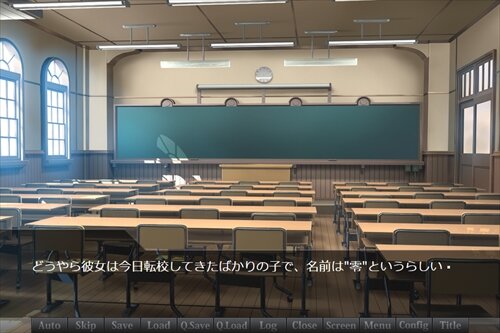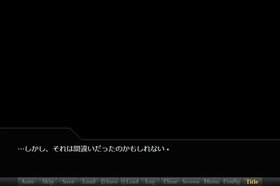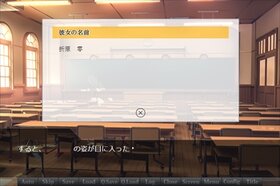 ■プレイ時間

累計10分


■ゲーム紹介文

出会いの物語です

一部流血描写があります、ご注意ください


■このゲームの特徴をリストアップ

周回系なので、要所要所にある、Tipsを見て、違いを見てみてください

■制作ツール

ティラノスクリプト
ティラノビルダー


■開発期間

累計7時間


■ふりーむ!へのレビュー投稿について

個人の趣味で制作したものですので、お手柔らかにお願いします。




■免責事項

個人の趣味活動のため、動作や内容について保証はありません。ご自身の責任にてご利用ください。


Reviews of this freegame.
Share this freegame.
Play this free game now with the browser!
Play on Browser
[Browser] Click to play now [ Decide ]
* When the game does not work, please play with another browser compatible with HTML5. Example: "Chrome" "Firefox"
* Save data is saved in the browser. You can not play with browsers that do not load JavaScript / Cookie etc
* If the operation gets heavier during playing, there is a possibility that the memory of the PC is insufficient. Improve it by closing unnecessary software and tabs.
Play on PC(Win/Mac)
[Win] Login and download "Windows version"
[Mac] Login and download "Mac version"
* This game is "browser game". It can be played without downloading with "PC / smartphone", but it is delivered in a format that can not be downloaded and started.
* It is not normally downloadable, but because it supports "multi-deployment function", it is converted for PC, and it is downloadable after logging in.
* Please use other decompression software such as "7zip (free software)" when garbled error occurs at zip decompression.
Add to Wishlist
Add to wishlist.
Useful later. x
Information
[Registered]
2017-09-29
[Updated]
2017-09-29
[File Updated]
2017-09-29
[Current Version]
1.00
[File name]
browser_Decide.zip

[Runtime]

[OS]
Win Browser
[Size]
40,121 KByte
[Characteristics]

[Content Rating]
AGE 12+
[Categories]
#Adventure games

News Letter
Recommended free game for those who like this free game.
Free game event list.