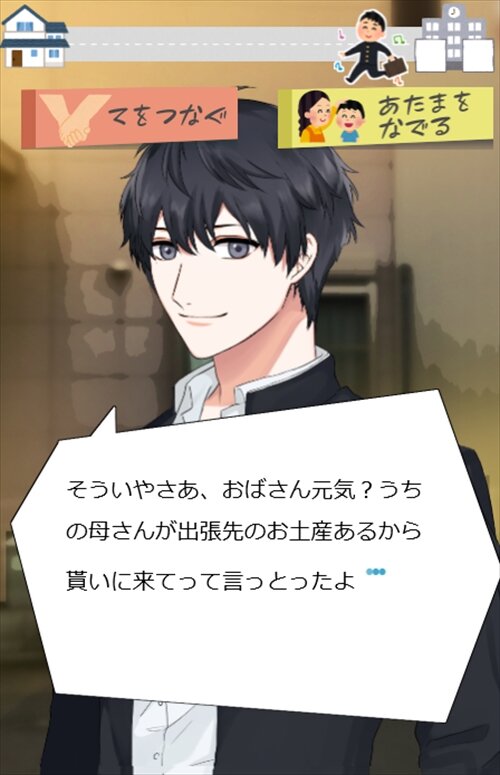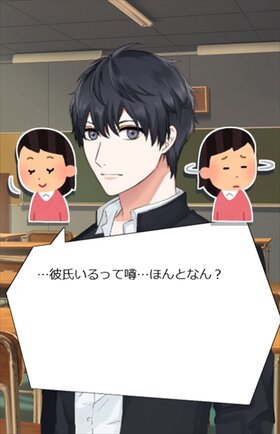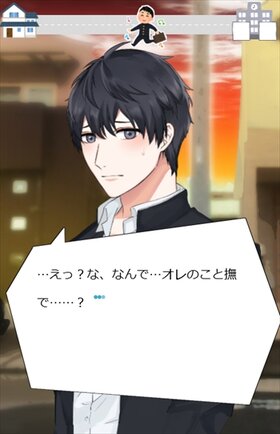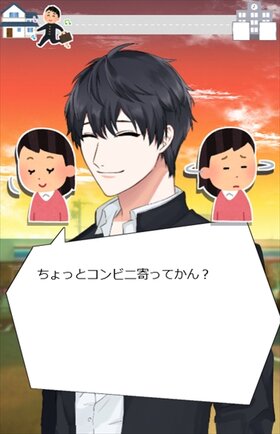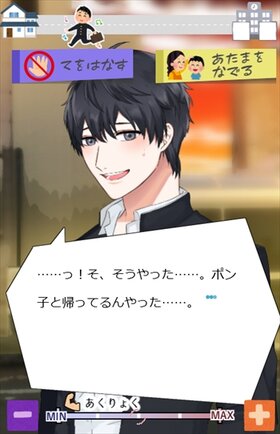 ■プレイ時間
一周5〜15分

■ゲーム紹介文
<幼馴染の男の子にちょっかいを出す放課後アドベンチャー>
いつも一緒に帰っている幼馴染の男の子、まことくんにちょっかいを出すゲームです。
頭を撫でたり、手を繋いだり、ぎゅっと強く握ってみたり…。
あなたの(おおむね)好きなときに、好きなようにいじくり回しちゃいましょう。

■ふりーむ!へのレビュー投稿について
個人の趣味で制作したものですので、お手柔らかにお願いします。

■免責事項
個人の趣味活動のため、動作や内容について保証はありません。ご自身の責任にてご利用ください。

※追記 9/12
ReadMeに攻略情報が乗っています。
よければ見てください。
※追記 9/15
http://tama.rash.jp/tokimeki/browser_2018816_194842/
ブラウザでのプレイ時に挙動が怪しい場合、上記のURL(サウンドオフ版)をお試しください。
Reviews of this freegame.
 まず驚いたのは、彼、動いてます・・・!このきれいなイラストとなめらかな動作・・・ほんとにフリーで大丈夫かな?!と感じるくらいでした。表情の変化ももちろん素晴らしいです。照れ顔が特にかわいいのですが、このイラストとアニメーションの技術力あってこその魅力ですね。
 そして口調・・・方言男子最高。かわいいです。とにかくかわいいです。なんというか、おぼこいです。性格はとてもピュアな感じで最高です。語彙力なくなります。めちゃくちゃ意地悪したくなります。Sな方向けかな?とも思いますが、母性本能を刺...(More)
See more reviews >>
|
Post a review on this free game? >>
Share this freegame.
Play this free game now with the browser!
Play on Browser
[Browser] Click to play now [ ときめきてつなぎ〜まこと編〜 ]
* When the game does not work, please play with another browser compatible with HTML5. Example: "Chrome" "Firefox"
* Save data is saved in the browser. You can not play with browsers that do not load JavaScript / Cookie etc
* If the operation gets heavier during playing, there is a possibility that the memory of the PC is insufficient. Improve it by closing unnecessary software and tabs.
Play on PC(Win/Mac)
[Win] Login and download "Windows version"
[Mac] Login and download "Mac version"
* This game is "browser game". It can be played without downloading with "PC / smartphone", but it is delivered in a format that can not be downloaded and started.
* It is not normally downloadable, but because it supports "multi-deployment function", it is converted for PC, and it is downloadable after logging in.
* Please use other decompression software such as "7zip (free software)" when garbled error occurs at zip decompression.