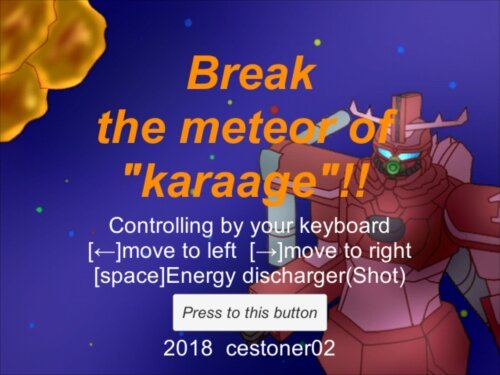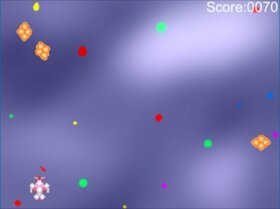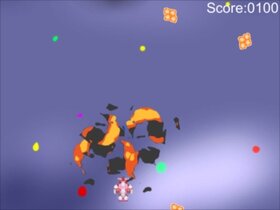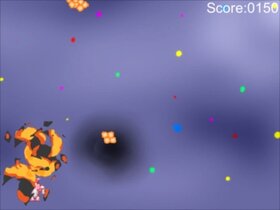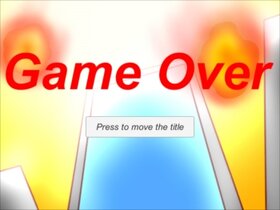 地球まで24時間。隕石がやってくる。
地球連邦政府は隕石の名前を"karaage"と認定。
隕石破壊任務を請け負った外宇宙進出隊のメンバーは
隕石破壊用エクスキャリア"MEAT(Meteor Especilly Attacking Trooper)"
にて隕石破壊を成功させ、地球に帰ってこれるか・・・。
プレイ時間は10分程度を予定してます。
ゲーム実況放送OKです。
出来るのであれば、作者(ケストナー)の方にご連絡ください。
ただし、作者や他人への誹謗中傷や悪口を言うためのためのゲーム実況放送はご遠慮ください。
肉と唐揚げのゲームセレクトに参加しています。

2018/2/12 公開開始
2018/3/5 画面サイズと解像度を変更可に

<In English>
It is 24 hours to the earth. A meteor is coming.
The Earth Federal Government recognized the name of the meteorite as "karaage".
Members of the outer space entry team who underwritten the meteorite destruction mission succeeded in destroying the meteorite at EX-CARRIER "MEAT (Meteor Especilly Attacking Trooper)" for destroying the meteorite and will return to the earth...
Planning about 10 minutes of play time.
Game comment broadcast OK.
If you can, please contact the author (Cestoner02).
If you want to live broadcasting, entrust to user.
However, stop broadcasting of sad things about others and other's slender.
This game is participating in "meat and karaage game select".


2018/2/12 Released by freem
2018/3/5 Changing screen size and resolution
Reviews of this freegame.
Share this freegame.
Download this free game.
Play on PC(Win/Mac)
Click to download [ Break the meteor of "karaage" ]