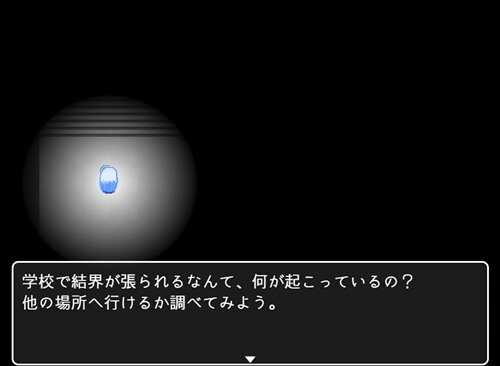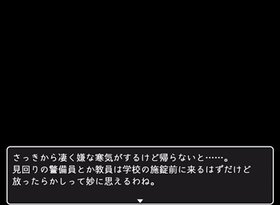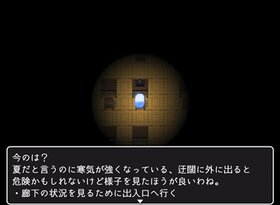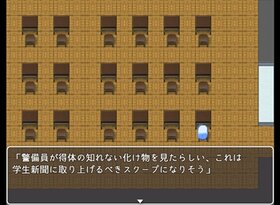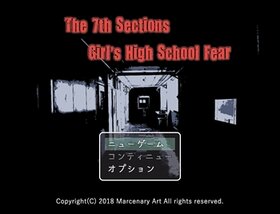 https://www.freem.ne.jp/win/game/18305
体験版で公開していた上記ゲームの「正式版」です。

※体験版と正式版では内容が大きく変わっております、体験版と同じように攻略しようとするとクリアは出来ません。

【ストーリー】※簡略版※
夏休み前の終業式の日、学級委員長のリリーアは夏期休暇前の書類作成に追われていた。

夏バテも相まって少し仮眠してから自宅へと戻ろうと机に突っ伏せた。

誰にも起こされずに深夜に目を覚ました、バスや電車は全て終了している。

暗闇の学校に奇妙な気配と寒気を感じてすぐに帰宅しようとするが……。

【基本操作方法】
カーソルキー:上下左右移動
Zキー:決定・調べる
Xキー:キャンセル
Shift+カーソルキー:ダッシュ移動
※オプションにてキーコンフィグ機能を搭載しております、FPS等で一般化されているWASD方式への変更も可能です。

◆攻撃はアイテム使用のみです、イザというときのみの使用となります。基本は「逃げる」ことになります。

【備考】
プレイ時間:大体20分程度(進行具合により変動)
難易度:プレイヤーの記憶力に依存
グロ表現有り、内容の都合上15歳以上推奨

仕掛けは単純ですが選択・トラップによる理不尽死がかなり多めです。また選択・仕掛けについては総当たりで解けるように設計してます。

専門学校生時代にRPGツクールVXにて課題制作したものを土台としたRoot's Project時代唯一の脱出ゲームをリメイクいたしました。今後のMarcs Artに関わる根幹とも言える作品です。

二次創作については付属テキストを必ず一読して下さいますようお願いいたします。当作は非常に厳しい作品管理を行っておりますことをご了承ください。

レビューにつきましては付属テキストの連絡先メールアドレスからではなくふりーむ!のこちらのページでお願いいたします。

■更新情報
体験版Ver1.00公開
2018/9/5 体験版Ver1.01 更新
2018/12/29 正規版ver1.05 公開
2019/1/16 正規版Ver1.05a 致命的な設定ミスによる修正 
2019/1/25 正規版Ver1.06 オーバーホール対応VerUP、試験的にブラウザ版公開開始

※動作不安定など不具合・障害がありましたらご連絡お願いいたします。
Reviews of this freegame.
Share this freegame.
Play this free game now with the browser!
Play on Browser
[Browser] Click to play now [ The 7th Sections Girl's High School Fear ]
* When the game does not work, please play with another browser compatible with HTML5. Example: "Chrome" "Firefox"
* Save data is saved in the browser. You can not play with browsers that do not load JavaScript / Cookie etc
* If the operation gets heavier during playing, there is a possibility that the memory of the PC is insufficient. Improve it by closing unnecessary software and tabs.
Play on PC(Win/Mac)
[Win] Login and download "Windows version"
[Mac] Login and download "Mac version"
* This game is "browser game". It can be played without downloading with "PC / smartphone", but it is delivered in a format that can not be downloaded and started.
* It is not normally downloadable, but because it supports "multi-deployment function", it is converted for PC, and it is downloadable after logging in.
* Please use other decompression software such as "7zip (free software)" when garbled error occurs at zip decompression.
Similar free games.
Add to Wishlist
Add to wishlist.
Useful later. x
Creator's data
Follow
Information
[Registered]
2019-01-04
[Updated]
2019-01-26
[File Updated]
2019-01-25
[Current Version]
Official Ver1.06
[File name]
The7Ver1.06.zip

[Runtime]

[OS]
Win XP/VISTA 32bit/VISTA 64bit/7 32bit/7 64bit/8 32bit/8 64bit/10 32bit/10 64bit
[Size]
42,034 KByte
[Characteristics]
Violence
[Content Rating]
AGE 15+
[Categories]
#Adventure games
#Escape games

News Letter