森を荒らす不良タヌキを退治しよう!制限時間60秒以内に何匹叩けるかな?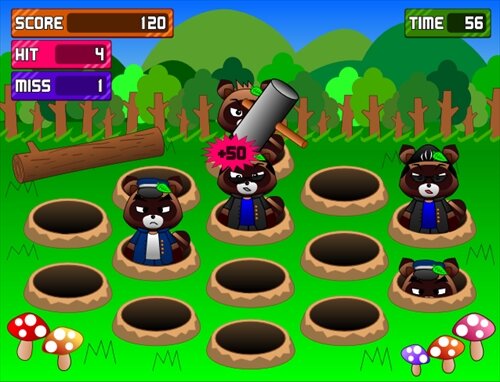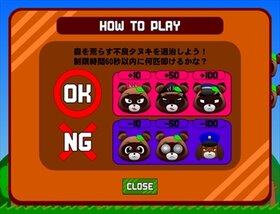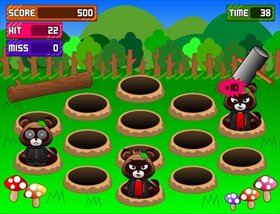 ■プレイ時間
約1分

■ゲーム紹介文
ユーザー参加型サイト『未開の地』にて公開しているミニゲームです。
穴から出てくる不良タヌキをひたすらクリックして退治してください。
各タヌキに応じたポイントが加算されます。
ただし間違えて不良以外のタヌキ、イヌ警官を叩いてしまうと減点になるので注意!
また、不良タヌキは時々これらのキャラに化けて出てくるので
よ~く確認してからクリックしましょう!
『未開の地』版では、ゲーム終了後にスコアランキングに登録することができます。
【未開の地版はこちら】http://mikainochi.s25.xrea.com/game/tanukihit/

■このゲームの特徴をリストアップ
タヌキ
不良
もぐらたたき
ミニゲーム

■制作ツール
HTML5(JavaScript+Canvas)

■ふりーむ!へのレビュー投稿について

個人の趣味で制作したものですので、お手柔らかにお願いします。

■お問い合わせについて
このゲームに関する皆様のご意見・ご感想を募集しています。それをもとに様々な変更、改善をしていく予定です。
改善点、バグ(不具合)報告など、ゲームに関することなら何でも構いません。よろしくお願い致します。
【お問い合わせはこちらから】
http://mikainochi.s25.xrea.com/bosyu/form/form0.html

■免責事項

個人の趣味活動のため、動作や内容について保証はありません。ご自身の責任にてご利用ください。
Reviews of this freegame.
Share this freegame.
Play this free game now with the browser!
Play on Browser
[Browser] Click to play now [ タヌキヒット ]
* When the game does not work, please play with another browser compatible with HTML5. Example: "Chrome" "Firefox"
* Save data is saved in the browser. You can not play with browsers that do not load JavaScript / Cookie etc
* If the operation gets heavier during playing, there is a possibility that the memory of the PC is insufficient. Improve it by closing unnecessary software and tabs.
Add to Wishlist
Add to wishlist.
Useful later. x
Creator's data
Follow
Information
[Registered]
2018-11-25
[Updated]
2018-12-14
[File Updated]
2018-12-14
[Current Version]
2.03
[File name]
tanukihit_upload.zip

[Runtime]

[OS]
Win Browser
[Size]
9,428 KByte
[Characteristics]

[Content Rating]
EVERYONE
[Categories]
#Action games
#Kids games
#Freegames for Global(PC)

News Letter
Recommended free game for those who like this free game.
Free game event list.